COMPUTER-GUIDED DENTAL IMPLANT SURGERY

WHAT IS IMAGE-GUIDED DENTAL IMPLANT

Guided dental implantology is a type of computer guided surgery performed using 3D radiographic and surface scan information to achieve predictable, safe and minimally invasive placement of dental implants.
Computerized tomography provides information about the position of the nerve canals, anatomical structures to safeguard these during implant placement procedure.
How is image-guided digital dental implant performed?
A 3D simulated procedure is carried out to plan the surgical procedure by the Dentist.
The implant position too is planned digitally for utmost accuracy.

What are the advantages of guided dental implant?
The advantages of guided dental implant are many-
1.Guided Dental Implant surgery causes least pain and discomfort to the patients post surgery.
2.Guided Dental implant is the most safe and predictable as it helps you to avoid any damage to important structures during the surgery
3.The patient can resume his/her daily routine as its minimally invasive surgical procedure.
Digital treatment planning also helps to identify any bone deficiencies or complications that can hamper the implant placement & help the doctor to be prepared during the surgery.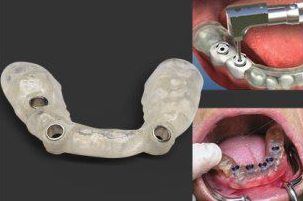 What affects the cost of guided dental implant?
Although majority of people perceive that the guided dental implant surgeries are costly, latest technologies in dentistry have made such advance dental treatments more affordable to all.The cost depends on several factors such as number of missing teeth etc
For example, if a patient needs one implant, the cost is much less than what is required for several implants. Moreover, cost will increase in case of patients who need bone grafting or jaw reconstruction to place the implant because their jaw bone may be deficient.

"India has seen a tremendous progress in the field of dentistry and is equipped with world class facilities catering to the most complex of dental cases. Fresh Breath Dental hires leading digital dental implant solution provider in India (DIO) for all kinds of dental implant rehabilitation scenarios. It has a record of dealing with the most complex of cases in implant dentistry and has a team of skilled and experienced technologists, dental specialists and prosthodontists with the technical know how to plan and provide solutions for digital dental implant surgery & prosthetics for safer & predictable treatment outcome.
CALL NOW  TO SCHEDULE AN OBLIGATION FREE CONSULTATION ..